Even with a local show on a smaller budget we put as much effort into the various aspects required as we would for a fully bespoke build. This case study describes a simple design journey.
Sureline Communications commissioned Vivid Pixel to plan their space and provide a full solution for their exhibition requirements for this year's show. We had already met Sureline the previous year when we showcased the Versaform Flex system and they instantly became fans of it.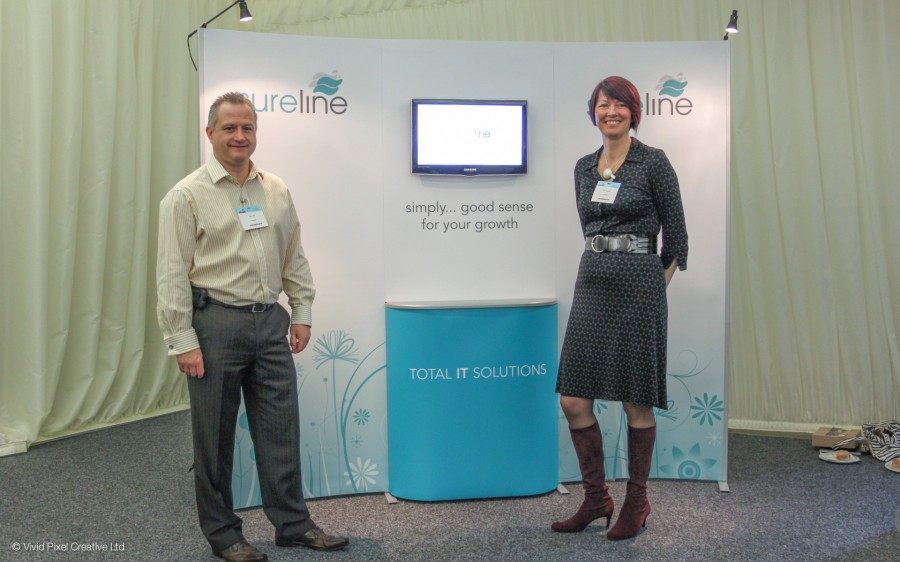 We built a smaller version of the stand for their evening workshop and 2020 pre-event and then we went on to design the full graphic wrap and plan for the 16 square metre 2020 show. We looked at how to build a full experience while they showcased their video conferencing products seamlessly.
We considered all aspects, from the ground up; space, traffic to and from the stand, cable management, height, lighting, podium positioning, furniture and video messages at the optimum height.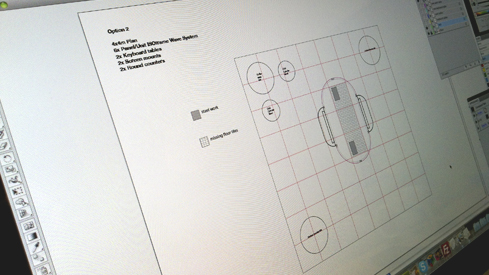 The platform is a pre-wired 40mm high, composite tiled system that we can cover in any finish required; carpet, vinyl, laminate, printed flooring, fake grass. We were also asked to provide a video solution for a simple set of branded key messages on a loop that would engage any passers by.
For this we supplied a compact HD media player, avoiding the need for expensive laptops being used and the added issue of security, video format incompatibilities, windows updates etc. We designed and produced the simple animated content for this also (below).
All in all Sureline have now invested in a stand that will last them years and will grow with them when they are ready to step up to a larger space. The display system itself is a unique, tool-free, modular design and manufactured in the UK with lifetime guarantees.
The beauty of it is in its simplicity. It combines the long awaited need for exhibitors to be ultra-flexible, self sufficient and mobile without the added hassle of weight, size and fixed shapes or footprints. Because you can actually add and remove modules and graphic panels at will - the Flex system can shrink or grow and bend into corners according to your space without the need for extra kit.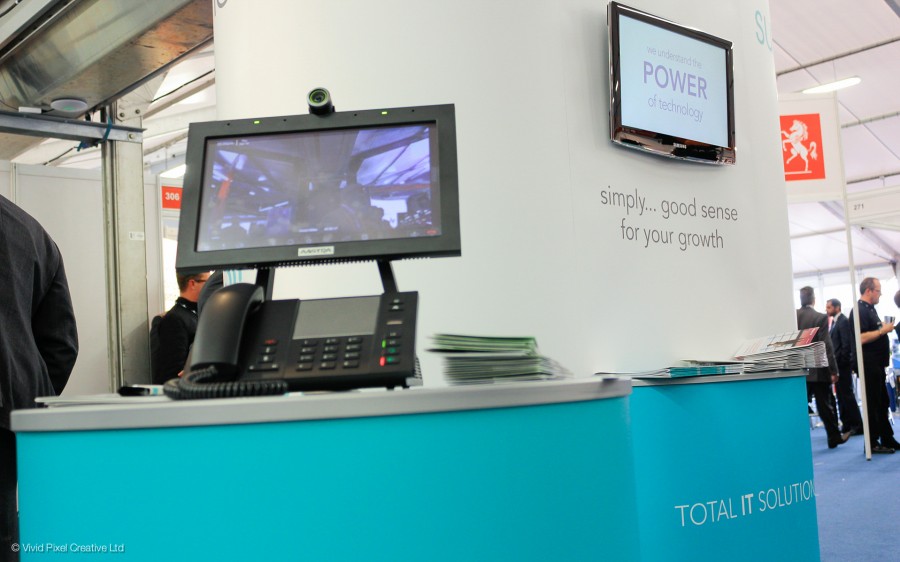 While it is not 'out on the road' it also makes a great reception graphic wall. Flat screens can be mounted to it, shelving, lighting and table attachments are all handled seamlessly too. It also has other elements within the Versaform family that compliment it perfectly like podiums, literature racks and counters.
If your business is looking to enhance your image at an upcoming event, you need help planning for the best return, are concerned about budget, have questions about organisers, position, graphics, systems, marketing support etc. then we are more than happy to answer your questions.
We offer a free, no obligation consultation to assess your bespoke requirements. Please contact us for a 'flexible and sustainable' project.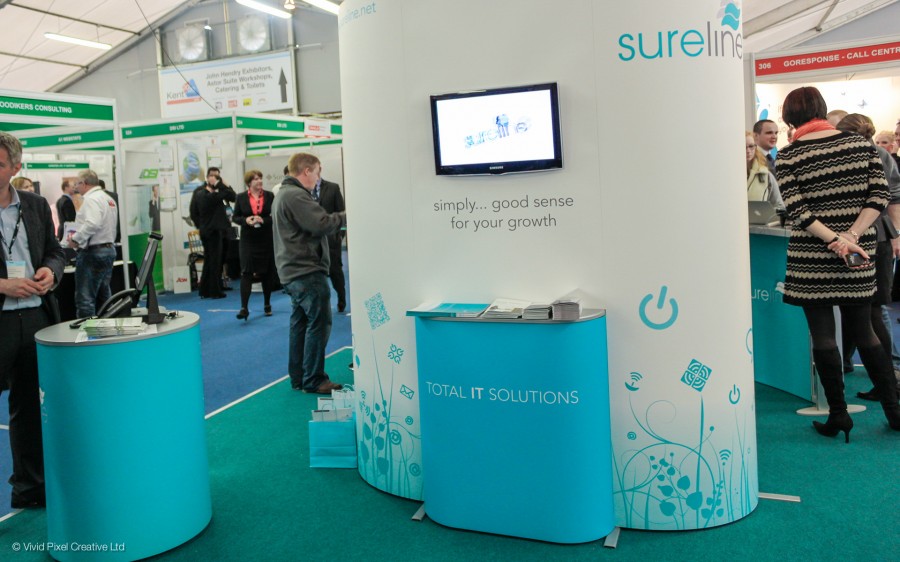 If you want innovation and sensible professionalism for your IT and Comms requirements, visit Sureline Communications or call 01732 252000. Big thanks to Creative Motion for the video interview and animated logo. Check out their website for full production and animation services.