VP were commissioned by international connectivity solutions provider, Weidmüller, to design and build a modern, interactive showroom at their new headquarters in Leicester. The brief demanded that it be unique, clean and somewhere people could simply "use" without too much supervision, but still had to be hi-tech.
During close discussions with the client it became clear we needed to push the boundaries compared with what was generally happening in presentation areas within certain corporate businesses. We wanted to bring the future closer by having the actual product available to the viewer/visitor but with all the technical information on tap as the product was picked up. With our technology partners we developed and integrated a system that enabled not only this interaction, but also several separate presentations within the system as training and sales tools.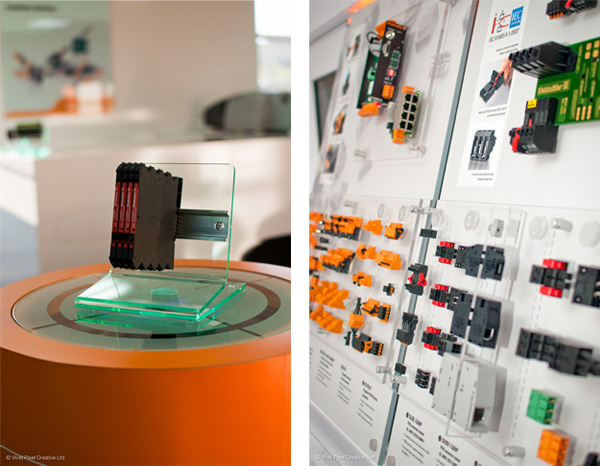 There is a user-activated area where if a product stand is scanned it will bring up a short presentational or audio visual movie on that product and any technical spec. There are several touch screen units that describe various products from solar energy to component products and also digital signage that updates with news feeds from around the world. A future-proof element we have built in is to have some of the data accessible from other offices worldwide so these can be input into for certain special events.

Other parts of the project involved custom designing several pieces to carry, store, illuminate and explain the function of products of all shapes and sizes. We also created the reception and stairwell environments and boardroom features coffee/refreshment unit. All in all a stunning result and happy client.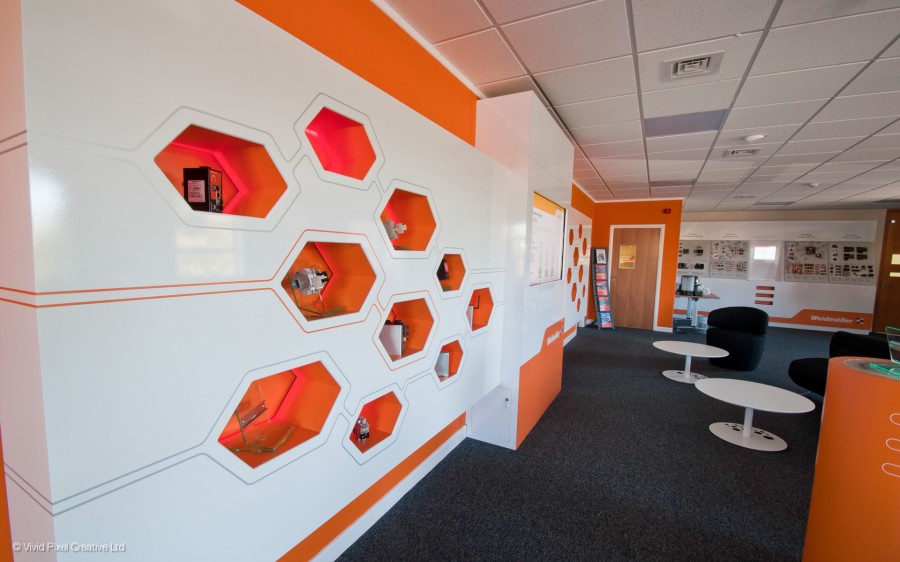 Huge thanks go to our partners iS-digital for their support with integration and software development.
If you would like more info regarding interactive environments, feel free to contact us for a friendly informal chat. We would love to hear from you.