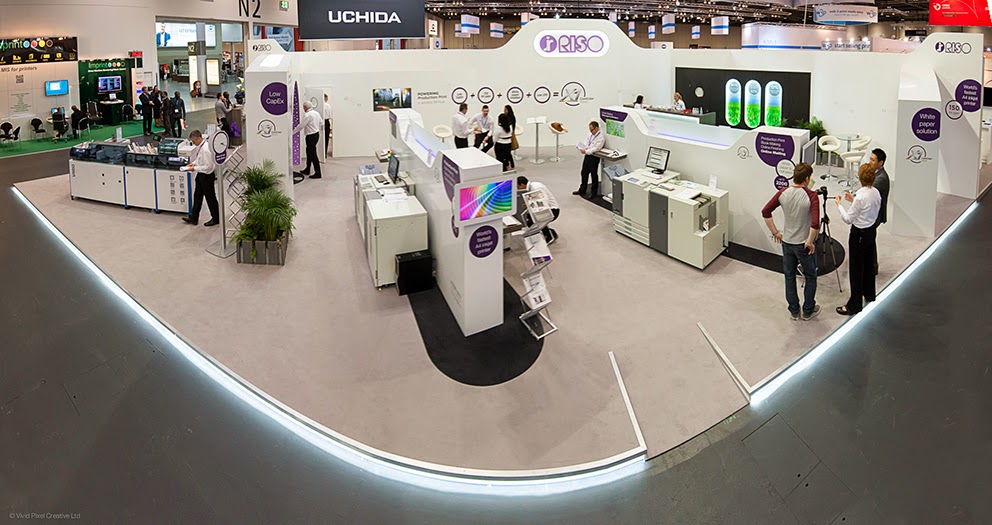 Back in October Vivid Pixel were approached by Riso UK to design and build their exhibition stand for IPEX2014 the largest media, print and publishing event that took place this year in London's ExCel centre.
The brief was to feature the client's flagship product, an integrated document solution which prints, folds, identifies, assembles and seals the printed envelope, all in one machine. Also, to reinforce their X1 brand and super fast print engine, known as the 'world's fastest' inkjet printer, it puts out anything upward of 120 A4 pages per minute.
For Riso it was imperative that visitors would not be shy to engage with the product and salespeople during the week and feel at home in a welcoming, yet highly productive, environment.
Vivid Pixel were asked to provide everything, from the organiser liaison, build logistics through to the finer details such as the floral decorations and the feature clock that announced the next available demo time.
Here is the visual story of our creative journey - from the concept stage to the final build and below a testimonial from a very happy client!



"Now the dust has finally settled on the show I wanted to officially say thank you for all your hard work in producing what was without doubt the best looking stand at IPEX.
The graphics came together really well, the attention to detail especially for the finishes was a winner throughout and made the whole stand come alive. Thanks again, now looking forward to IPEX 2018!"
D. Callaghan, Marketing Manager, Riso UK Ltd
If you would like more info regarding our bespoke exhibition design and build services, please contact us for an informal chat.