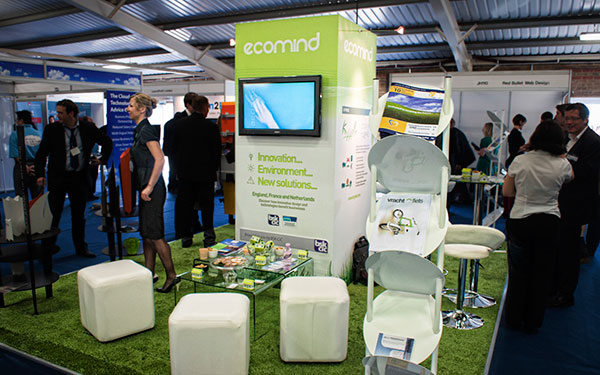 We were approached by the Ecomind team to design and build this small open plan 5x4m space at this year's local Kent 2020 show and the initial brief sounded quite a challenge to get it done in time whilst keeping everyone involved reassured! We soon learnt that there were to be several different European companies showing products and services on the stand which initially raised an issue of brand presence and weighting.
Once these aspects were overcome we sourced and supplied synthetic grass to a floor platform, printed/wrapped wall panels to create a 360º visible media tower which had several uses from supporting the media screen to informing the visitor of each brand/product to somewhere to store literature, giveaways and bags etc. all in a tidy way.
The stand was finished to schedule and nicely under the initial budget which was also refreshing!
"Working with Vivid Pixel was a pleasure, their collaborative approach helped us think through what we were looking for and the overall process was made easier and less stressful. They took the time to listen to our needs and difficulties and came up with suggestions on how to integrate multiple companies into one stand rather than demanding an exact list of requirements.
Thanks to its design, the stand attracted visitors, plus nicely reflected the project mission, environment and innovation. In the end, we were really pleased with the results, the invited companies on the stand were impressed and we received a good number of compliments from visitors about the design!"
Magalie Birch, Project Manager, BSK CiC.