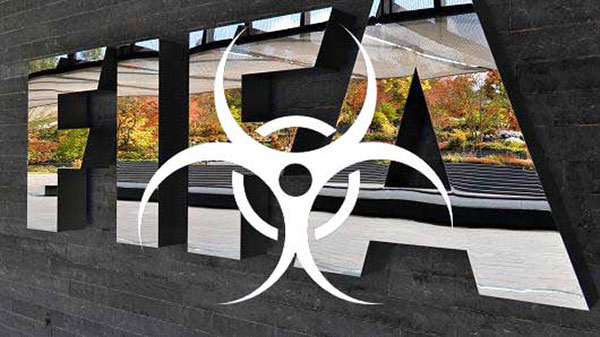 FIFA is now what I would term as a Toxic Brand. How can they possibly come back from this with any real dignity and trust from the footballing world?
When I heard the news this week of the arrests I thought yes! about time this twisted money focused operation was rousted and hopefully we will see some changes. Well that was a short lived hope. The internet was soon full of the stories of the SA, Qatar and Russian world cups being examined, corruption, money bribes, FIFA execs' palatial homes paid for by dirty deals etc. Not to mention the human scandal of hundreds (possibly thousands) Qatar 2022 workers dying in poor working conditions or Nepalese workers not being allowed home to help relatives and victims of the recent earthquakes.
Following this news there then appeared a few "anti logos" of FIFA sponsors suggesting they are supporting human slavery with these brands seemingly trying to distance themselves and say the right thing, VISA leading the pack here. It will be hard to erase these from peoples' memories.
This news made me relate it to my business and I recalled one of mentors once saying that, in business, your brand takes infinitely more effort to overcome bad publicity than simply running a successful operation that just keeps its promises. Just think, you upset a customer and they not only choose to go elsewhere but they hang onto that feeling of bad service, faulty product or whatever it might have been. They then tell others not to buy your product or service and the others ask why. Hopefully you see where this is going....
So it takes a hell of a lot of effort to not only run a good operation but to be able to act fast, put customers at ease when they have a complaint, fix what went wrong and if possible go over and above to make sure this customer is made happy so they will only say good things about business and think well of your brand.
This blog post isn't really design-based but its theme is something we feel is important value that our company strives to uphold. I would like to think we are perceived as an honest organisation with quality at the forefront. Hopefully our work speaks for itself and our clients know we will always act promptly to correct any mistakes - if it's in your soul then it should be reflected in your work.
As I conclude this blog the news has just announced that Sepp Blatter, the "Teflon Don" of football, has managed to hang onto the FIFA presidency by a clear majority. He is now on TV trying to convince everyone he's still squeaky clean and can be trusted with "driving the team bus" of the world's favourite sport for the next few years. Whatever your view I personally am still unconvinced and await the outcome of the USA's investigation.
The beautiful game has an ugly head and it needs a serious facelift. We live in hope!
Update: Blatter resigns after 4 days of his new term. Jack Warner (Vice President) quizzed over missing Haiti Millions. Hopefully we can have an honest, ex-player at the helm now. I heard a rumour David Ginola put his name in the hat...