State of the art interactive technology was embraced for the immersive experience, bespoke furniture, cabinet enclusures and fittings were designed and built and everything implemented into their brand new UK headquarters in Leicester.
Weidmuller UK approached us to devise a new marketing strategy to connect its products with clients, visitors and staff. The brief was to convert certain environments in their new UK head office to be able to present, manage, instruct, store, display and entertain. The main zones included a reception, primary stairwell, meeting rooms and the main marketing suite.
We thought that by fully "connecting a connectivity company" would be quite fun and unique so we set about delivering a full family of bespoke solutions for the main room including: furniture, touch, scan, signage and storage areas – most incorporating some form of technology,
some using programmed LED yet all tied together with a subtle use of the global Weidmuller brand.
Interactive Technology
The flagship of the experiential visitor room is the interactive product scanning podium where a visitor/presenter lifts an item from the product display wall, scans it and is presented with a series of updateable information on the big screen. This could take the form of video, tech specs, case studies within a sector etc.
All these applications, sited on their global intranet, are also designed to be accessed and edited remotely from anywhere in many languages, thus eliminating the need to disturb any hardware or fixture. The main screen can also be used for general presentation or even just watching TV!
The end result was a truly custom built, dynamic experience which propelled Weidmuller ahead of its competitors, creating a fun and practical customer experience that is quite unique. If you would like to discuss how we can support your marketing ideas for your product or service, maybe integrate some technology...
The reception area involved a reworking of the welcoming space. It required impactful signage, document and supplies storage, up to date information and news that was delivered by means of a large LED screen. Nicely finished off with some funky furniture and planting.
With the use of LED and sandblast glass we created the glowing, colour changing branding that dominates the reception wall. As you can see the end result stayed within the aesthetics of the whole project and provided a comfortable and airy space for visitors and staff alike.
We utilised printed glass for the various product and sector based signage dotted around the building.
Glass Signage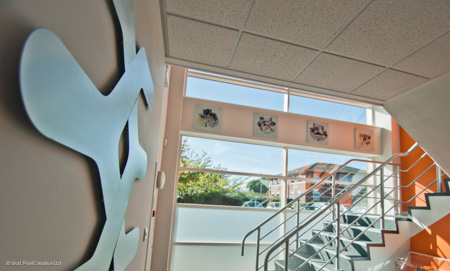 Tensioned Fabric Banner Triptych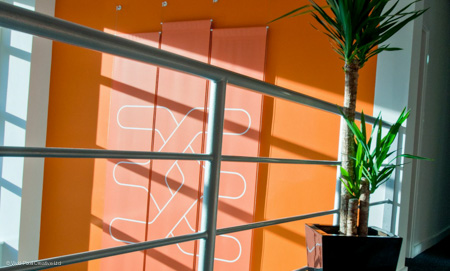 For static display, fabrics and signage design...
The stairwell needed to make a statement too so we specified a bright orange feature wall with a "triptych style" fabric banner secured by tensioned cables and fixings.