Spend a little more, get a whole lot more
Shopping on the internet for displays and exhibition products is a great way to cut the costs of your marketing budget. With so many display providers advertising on the web, you can easily find a pop up, graphic panel or roller display for your next exhibition or event.
You can shop around for the cheapest quote on the product you're looking for and with the click of a button or three you've bought a great item at a fraction of the normal cost, and design is "thrown in" if you want it! What could possibly be wrong with that? You've saved your company some money and got a neat package deal too.
But have you actually just made a mistake that could cost your business much more than the price of a graphic panel? You've probably heard the old saying "buy cheap, buy twice"? And it's not just about the goods you've just bought either.
Choosing a good display/graphics/exhibition supplier isn't just about money. Ask yourself a few questions before pressing that 'Buy It Now' button:
1. Are the products manufactured in the UK or EU not mass produced in the Far East?
2. Are the units/frames handled in low, manageable quantities not mass bulk?
3. Is the print and production all done in-house with your supplier?
4. Are you actually getting a "design for" not a "design at" your business, provided by a professional, who understands your needs and is able to advise on product choice?
5. Are you able to speak to the people actually producing this for you?
6. Are they able to work through the brief with you, proof the job back to you quickly and format the artwork correctly so there's no mistakes?
7. Are you sending your files direct to the designer and not being asked to upload your image, logo, text to an anonymous website?
8. Is there a no quibble "Lifetime Guarantee" on all their hardware?
9. Most importantly is there after sales support when something goes wrong?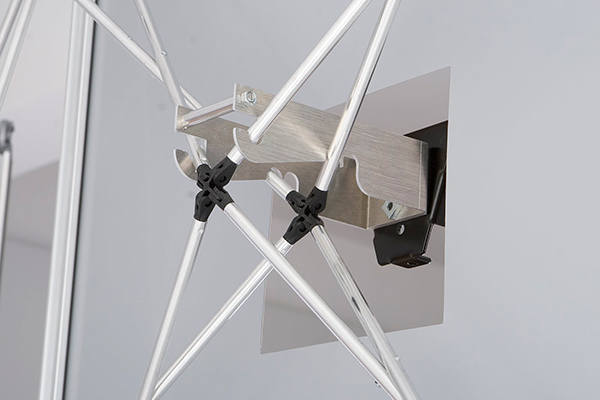 Cross braced Titanium pop up detail with TV mount
If you answered any with a NO and you're happy with that, then please go ahead with your online purchase. If you would rather all the above to be YES answers, then Vivid Pixel can provide you with design and display that is matched to your needs, with peace of mind and quality guarantees.
We will discuss your requirements with you, offer advice and try to match you with the most suitable solution from a wide range of products. We will also discuss the design with you; this is your most important message, we will give you honest feedback on your message/design ideas and suggest alternatives that are proven to work. We will check and correct any logo files, images and artwork you supply, plus make sure the design is in the correct print ready format so nothing goes wrong in the process. After all it's your reputation and ours so we want to help you get everything right.
All our self assembly and modular hardware is sourced from UK and Scandinavian manufacturers and all carry lifetime guarantees so there's always support should anything go wrong. Our print and final assembly is all under one roof so you know the product never leaves the building before it's finally assembled, quality checked and delivered to you. We have precision, colour-matched printing, laminating and finishing processes so all your colours and gradients looks smooth and pin sharp - our graphic panels will not shrink, curl or look tired after one or two uses.
This is where buying cheap can begin to show the pitfalls.
Maybe ask yourself these questions once your display arrives:
Is the quality of the unit/frame up to scratch and no parts loose or missing?
Does it stand up properly?
If it's panelled, do the graphics align accurately without colour issues across joins?
Is the print substrate what you expected - not thin, see through, curly or cheap PVC?
Is it sealed/laminated and is it a thick, light stop material? (usually silver backed)
Is the print definition good - no banding or mismatched colours?
Do you honestly think this will still be intact beyond the first, maybe second outing?
Are you completely satisfied with your purchase?
If not, can you now seek aftersales service for a possible refund/replacement?
If you can honestly answer 'yes' to all the second set of questions then congratulations, you've scored a real bargain! We don't believe you of course, as we know the true cost of service, quality and back up for our clients. This is the valid reason our displays are possibly up to twice as much as our online shop counterparts. We will never be an online shop as we know the customer-facing quality, service, back-up attributes are very important buying criteria to the serious exhibitors out there who want to take pride in their business, its brand values and longevity of its display systems.
Please contact us if you'd like some honest sound advice, a wider choice and some added value.