Got a print deadline?
Whilst it's absolutely fine for clients to ask us for a design and to supply the print files only, it is usually much less stress for them to have us look after the whole job right up to the delivery fulfilment stage.
We ensure at each artwork stage, after the concept is finalised, the files are prepared to meet the correct specification of print – be it digital, litho or screen print. We have the know-how and years of experience managing print projects to be able to guarantee a hassle free print process.
Unsure of the print & proof process?
Most issues occur when a file is not correctly set in the right colourspace, other problems like font corruptions, transparency, incompatible types of paper stocks, bleed and trap, rich black not being applied correctly etc.
Complete peace of mind
The only area of client responsibility comes at the final proof stage when we ask for client approval and sign off.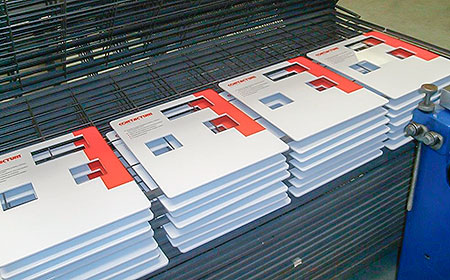 This is the most critical stage of course when any last minute questions or concerns are raised. Colour (digital or 'wet') proofs are available on request and an additional small cost for absolute peace of mind. (Wet proof is a term used for the actual litho process so provides an exact replica of the job – though this can be costly).

So why not leave your project in expert hands to ensure a risk and worry free outcome next time? We are confident that you will be satisfied with our print management service.
Please call us if you'd like a quotation.