Returning to the print show for the third time, we proposed a saving with a more long-term investment for their future exhibition calendar.
For this we proposed a solution to a common request; To design and build a concept that could be re-purposed without compromising the bespoke nature of their previous stands, yet offering a multitude of uses, finishes, graphic changes, integrated media display options and flexible floor space sizes.
Along with the benefit of being extremely versatile, the frame-based stand design retains an impressive back drop for the launch of their new production printer, the T2.
This accompanied by a giant 2m high LED media corner, light boxes and feature arches that will serve for years to come
Is your business looking for a high-end, cost-efficient, reusable exhibition stand? Please contact us here.
Time Lapse of the Build
This bespoke exhibition stand brief required a fully integrated, functioning, networked stand with a reception, space for meetings, storage, demonstrations and refreshments.
We needed high level branded signage too with fine finishes, audio visual points and many other extra details like plumbing and 3 phase power.
We gradually built up a set of shapes, concepts and gathered examples of various materials for the tactile areas.
Integrated Screens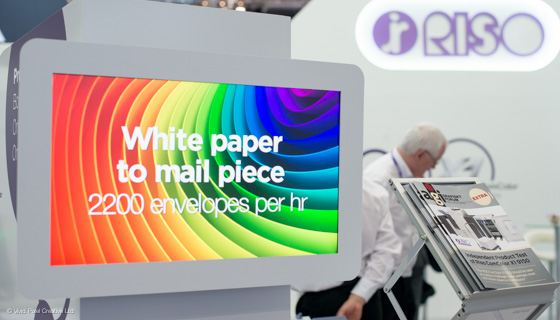 The result incorporated two walk in stores, a high level 3m fabric drum, illuminated LED archway features, an illuminated glass wall with serving area and demo wall divider units with integrated flat screens to hide away all the computer elements and wiring.
We also designed animated digital screen savers and rolling notices running from our solid state media players, large format posters and flexface lightbox panels for the event concourses.
Animated Event Content
Ultimately our client was extremely happy and we heard event officials mention that it was "the best designed stand at the whole event!"
If you would like to find out how we can deliver your next award winning exhibition stand design and build (plus any extras)...