Save time and waste with these valid points. I'll explain why you should always do the following before starting your work and, more importantly, before losing sight of your artwork to your printer. It definitely pays to take a few more minutes right at the end too.
Trust me, I've been a victim of a few of these through rushing to meet a deadline!
Maybe it's my cynical old self speaking but there seems to be a growing number of 'digital' designers producing artwork for print (litho, screen print or digital) not being fully prepared and whilst still in the "web mindset". It's not meant as a poke at web designers but if this sounds like you, this post is definitely for you. I'll just start with a quick thought for you - mistakes made on websites can be corrected without too much fuss or expense. However once a job is in print, there is no turning back... Well, that's not entirely true, you can of course throw the lot into the recycle bin and reprint it! This could be thousands of pounds or dollars of waste. So, please just hold that (probably quite obvious) thought for a second.....
This list was drawn up from my own experience (and mistakes!) to help make your printing journey smooth and painless. For all you 'veteran' graphic designers out there, this post may seem a tad basic but have a read through anyway to satisfy yourself - I'd be keen to hear your comments at the end if I have missed any really big ones.
Some Pre-Design Fundamentals:
1. Talk to your printer
Who knows more about colour than your printing company? So why not ask them about specific colour profiles, file specs or any other requirements? The more prepared you are the better the result. They can advise best procedure especially on certain paper stocks using certain pantone colours or print profiles. Just get the fundamentals in place before you begin, it'll save you a lot of headache.
2. Select the right paper stock
There are a massive variety of paper types; matt, silk, gloss, coated, uncoated, recycled..... to start with. Each paper type adds a different feel to your design work plus they will all absorb ink differently and thus affect colour and clarity. Note that the weight of the paper can also produce a different effect and don't be afraid to ask your printer or call paper companies direct asking for samples either so you have them on your desk. They are more than happy to help you specify.
3. If possible, colour calibrate your monitor first
This will minimise the difference between what you see in print and what you see on the computer screen. You can't be 100% accurate colour-wise as there is backlight in the screen to make colours appear brighter but you can try to be as close as possible. Try opening a blank Adobe file (preferably in normal daylight) with a plain white background and hold a plain piece of paper near the screen. Generally you'll see the temperature of the screen will appear 'cooler or warmer' than the paper. On a Mac, open System Prefs/Displays and click calibrate (Windows will be similar). Have a go at creating your personal profiles here but for more on this process we will have to write a whole other post!
4. Which colour space?
As above this is key to best outcome. Forget sRGB, Hex values, RGB and anything web related. You need to think "paper", subtractive colour printed onto a substrate. Ensure you work in a print colour space or "gamut" - use Pantone book colours where possible to retain purity while you design your work and only convert to a CMYK at the PDF export process. This will sound highly contradictory but if you begin working in an RGB colour space and export for digital print only, you may yield much punchier print than working/exporting within CMYK. Make sure you speak with your printer first though to ensure their RIPs are capable of a "clever conversion".
5. Learn a little about colour profiles
A colour profile describes the colour attributes of the viewing requirement by defining a mapping between it and the target colour space. You'd improve your colour management workflow greatly by having the know-how. Once you have your best settings, synchronise them in Bridge. For starters here are four common profiles used in the UK - "purest to dirtiest":
Adobe RGB (1998)
sRGB (web only really)
FOGRA 39 (CMYK offset)
SWOP v2 (CMYK offset)
(Oddly all Adobe software "out of the box" defaults to SWOP v2 when you export to PDF, so you'd do yourself a favour by junking this for FOGRA 39 and its slightly larger colour space).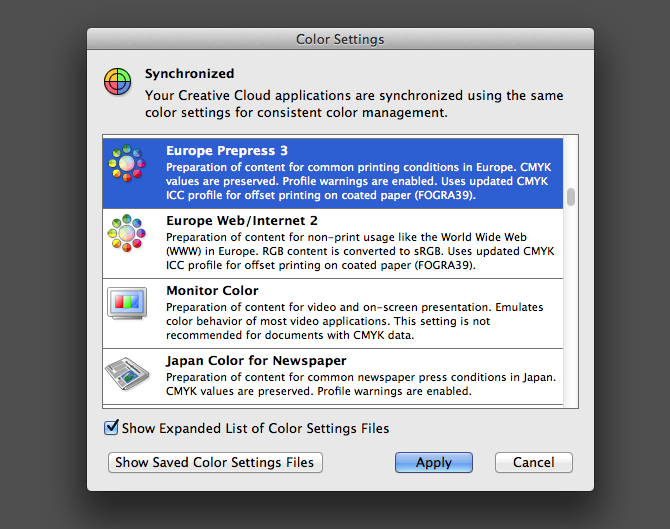 I should add that a lot of printers have their RIPs set to "ignore profiles" so this may be a wasted point. It's always best to ask your printer first and get their opinion on what you intend to achieve.
At the File Export Stage:
6. Images
300ppi (pixels per inch) is the optimum resolution for offset printing. You can go higher but will gain very little unless your printer advises for high level art books etc. Ensure your original images are up to scratch and work in Adobe RGB until you are exporting to CMYK. A last minute conversion at PDF export will yield best colour in your file. Or you can ask that the printer accept an InDesign packaged file that their RIP interprets for you (you'll need to trust each other here!)
7. Double check EVERYTHING
I can't stress this one enough. Proof-read the copy, check the phone number, web address, punctuation, grammar, everything. If there are mistakes on the document, your client will blame you even if you don't feel that it is your job as the designer. Go the extra length and get another competent reader to go through everything on a separate copy that they mark up. This way you can compare both sets of findings. I always found being the designer on a job meant you would miss the sometimes obvious little errors because you were "too close" to the project as it evolved.
8. Output to PDF
After speaking with your printer you will hopefully have a set of parameters that you can easily plug into InDesign and create a quick preset for your PDF export settings.
9. Preflight your document
Ok, so you don't really need to be an Acrobat Pro expert here but doing a few basic checks will help avoid the common issues. Here are a few important ones:
Check for overprint and if you see any that are not deliberate, go back and check the file. Use of the black "K" channel is a common one.
Check for transparency and if it has been flattened. Some older RIPs or less equipped presses will create ugly results if not flattened.
Check your fonts are all embedded (with recognised encoding) or even outlined.
Check your colour space is as you intend and that you have the correct channels listed for Pantones and CMYK.
10. Supply and ask for a hard copy proof of the final file
This tip may seem a bit pointless but giving your print company a hard copy is useful, even if it's not great quality. It will prevent any possible issues being misinterpreted in a "virtual" file. If you need real peace of mind for your client it's often worth allowing the extra time (and cost) for a hard copy digi proof or even a wet proof (yes, printers will still offer them but they will be costly).
11. Create a simple proofing email instruction for your client
You can simply create a set of "rules" that get sent with your final proof copy to your client and stress that they must read and agree that they have proof-read and carefully checked all that they can "visibly" to ensure they are happy with what they see. Offer them the opportunity of a hard copy proof again here - especially if it is a large quantity order. It may seem obvious but once signed off by them you have at least done all you can to ensure best outcome by involving the client.
12. Written approval/sign off from client
Make sure you have this and keep the approval email/hard copy sign off with the job in case there are any issues. It'll help avoid any unnecessary finger pointing if handled diplomatically.
I hope you have taken at least something from this blog and will put it into your everyday practice or process. I'd love to hear from you if this "saved you" in some small way or you think we could add anything.
Leigh is the Creative Director at Vivid Pixel Creative Ltd, with 28 years experience in the print industry and graphic design field. Working with client artwork, our own artwork and several sources of traditional litho, digital and screen print.
Please contact us if you would like to find out more about print and management.