The design brief required 4 separate product zones, linked by a common graphic thread, spatially organized so it allowed adequate movement, a meeting zone and some secure storage for stock and personal belongings. We needed to incorporate their video show reel and also create some impact with some high-level brand messaging.
Working within a tight budget can constrain creativity usually but this didn't stop us coming up with a welcoming and striking exhibition stand for 2019. Having worked on several stands for RISO previously, and the fact they had invested in our reusable modular system, we were able to use elements from the previous year, saving money for them.
In reality, a saving of over 30% has been made by investing in the system and hiring elements instead of purchasing them.
We re-energised these modular elements into new shapes adding new elements like a green wall meeting zone, some feature arches and fresh graphic messages. Most of these new elements became part of our stock and were hired, with a view to re-use where possible and reduce cost for any of our future clients.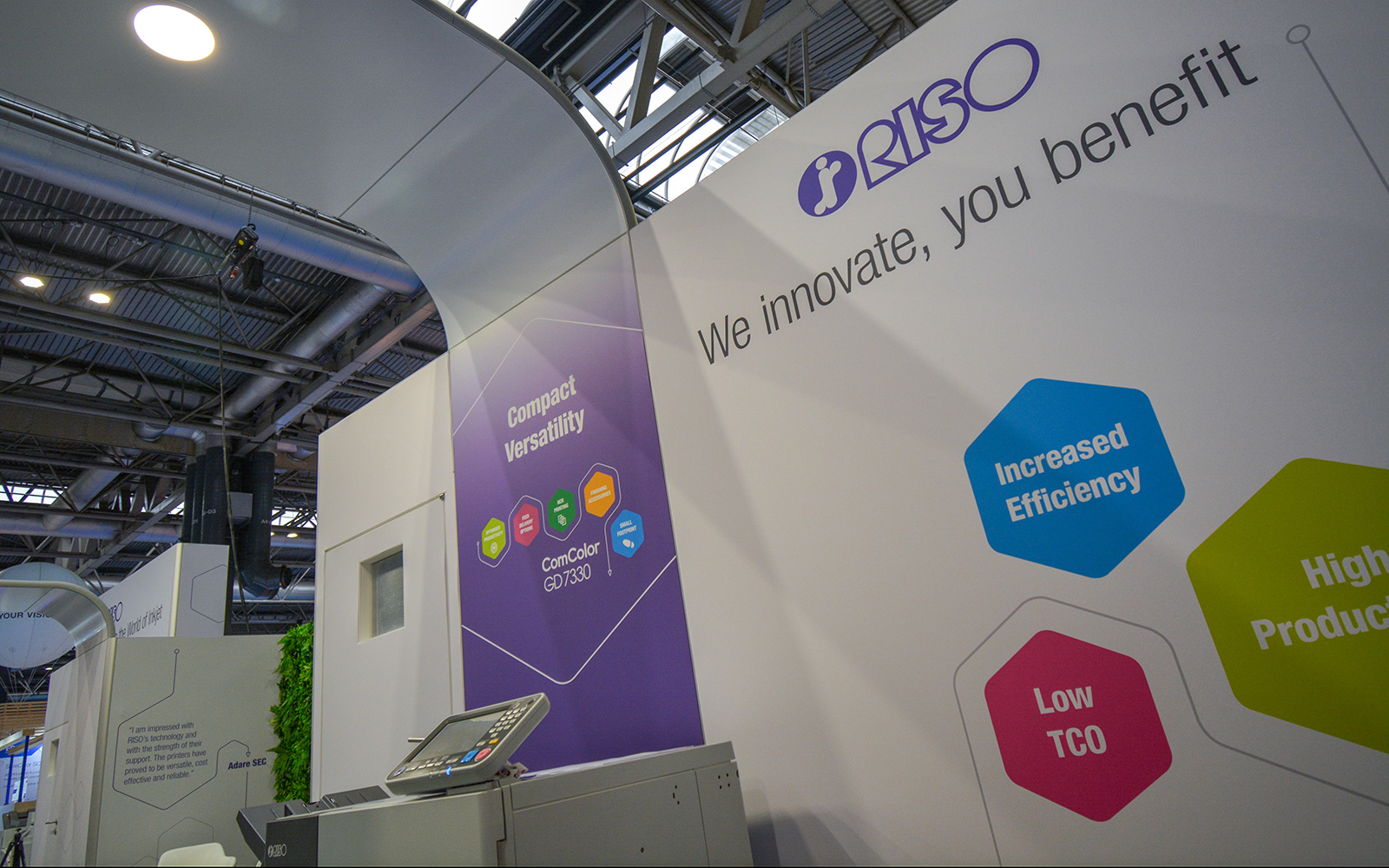 The fact that RISO were pitched right on the entrance was a bonus too as we had the perfect canvas to wow the visitors as they entered the hall. Even the organisers loved it.
Here's what the client had to say:
"Having worked closely with Vivid Pixel for the last 10 years they were once again given a brief to design and deliver a purpose built stand for our major trade event at the NEC in September. The brief was clear. We wanted a stand that had high impact to maximise our brand exposure in the sector, engaged with the visitors, one that clearly identified our key USPs, and for this event a stand that showcased the world premier of our latest product.

It is safe to say that in all areas Vivid Pixel overdelivered. Even the exhibition organisers said if there had been an award for the best stand then RISO would have won. Our brand profile was raised, our feature eco green wall was a definite conversation starter and we received our first order just 3 weeks after the show.

Vivid Pixel are more than a stand builder, they are a partner who work with us to ensure we maximise our ROI from an event."

RISO (UK)