Mezzanine are an established and well known structural flooring manufacturer specialising in design of integrated installations across Europe. They have some impressive logistics and manufacturing clients too like Amazon.
Shell schemes are usually a simple exercise in dressing with wall graphics or installing a pop up, maybe with the addition of a little furniture or a video screen etc.
This one was a small space but with an added challenge. The product needed to be present and we needed to ensure the item integrated with the rest of what we were doing. We didn't have much room and the product is a big item. So, we helped Mezzanine size and compact the presentation of the various components within the wall panel whilst ensuring it would stand independently and stay put!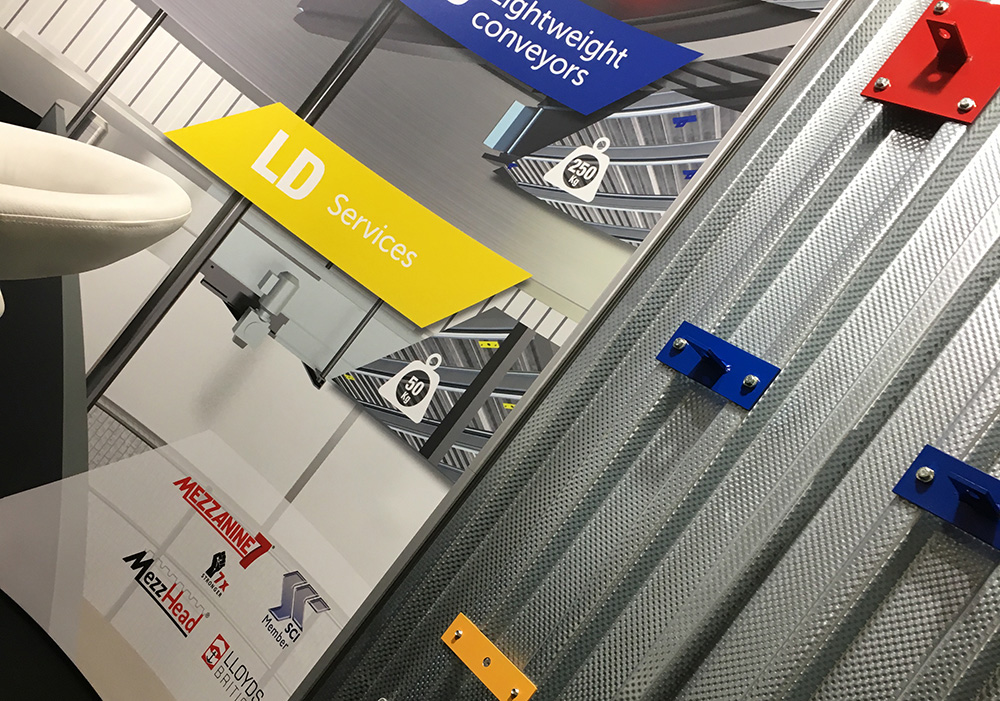 The graphic display needed to be portable, reusable and work seamlessly with the product. They also wanted to showcase with a video explaining how everything worked and have options with their giveaways and brochures.
All this was achieved with a little 2d, 3d and some calculations for the product part. The display requirement was solved perfectly by the Versaform Flex system as it is modular, portable, totally flexible and we could attach it into the product panel neatly so the whole graphic wall display appeared like it belonged together.
The client was very happy as they now have a travelling exhibition solution for years to come that they are in control of, with options to change component parts, the video element and, when they need to, replace graphics.