Grestec Tiles are based in the Kent countryside and also have a permanent showroom in London. They were attending 100% Design in London and approached us to come up with a fully interactive, analogue space to show off their best products which featured tiles used in all the Diesel stores.
Tiles are heavy! That's the first thing we realised when discussing this project. Literally tons of stock would be required to facilitate the walls and floor display areas. We also intended to go high and make a real announcement, this eventually became the rounded cruciform structure which allowed visitors to pass right through the whole stand from corner to corner.
So, logistics and site handling had to be considered and the stand had to be robust but still attractive to visitors.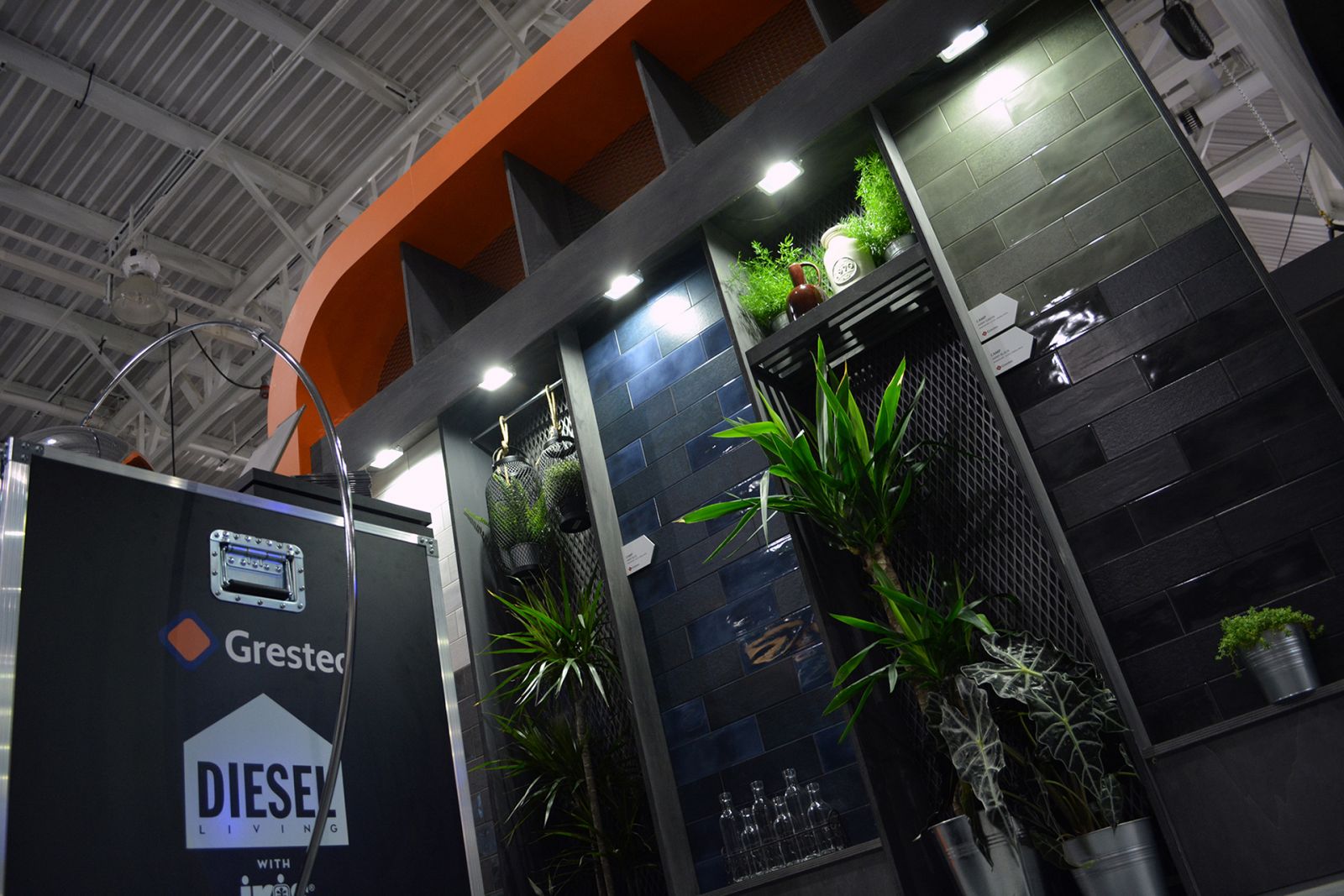 The theme was to be "Worn Industry" and so we set about thinking up materials, finishes and colours to present their brand clearly and allow the tiles to be the main feature. We used mesh grilles and stressed ply planks to make up the walls and divisions between zones. The outer capping was orange to match their brand and the whole design came together really well.
Grestec agreed to provide some of the larger plants and props, we provided the smaller finishing touches and ornaments, suggesting neat ways to identify the products that wouldn't interfere with the overall look.
Details were added like small access cupboards, subtle illuminated brochure recesses and coloured LED accent lighting. The main product lighting was enabled by 24x 30watt mini floodlights, daisy chain connected to give powerful yet subtle lighting to the product areas and keep costs down for the power allowance.
All in all the stand achieved all it set out to do and more and the show was a huge success, culminating in a very happy client.
"We were very happy with working with Vivid Pixel and wouldn't hesitate to do the same if the opportunity arises again."

Grestec Tiles